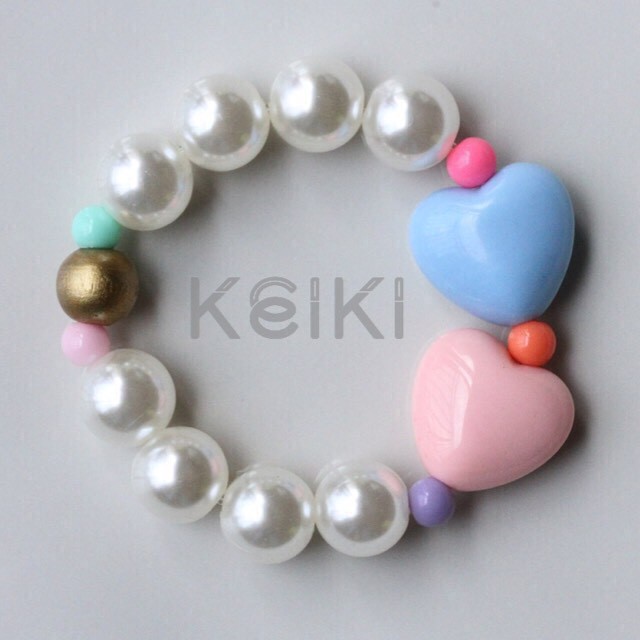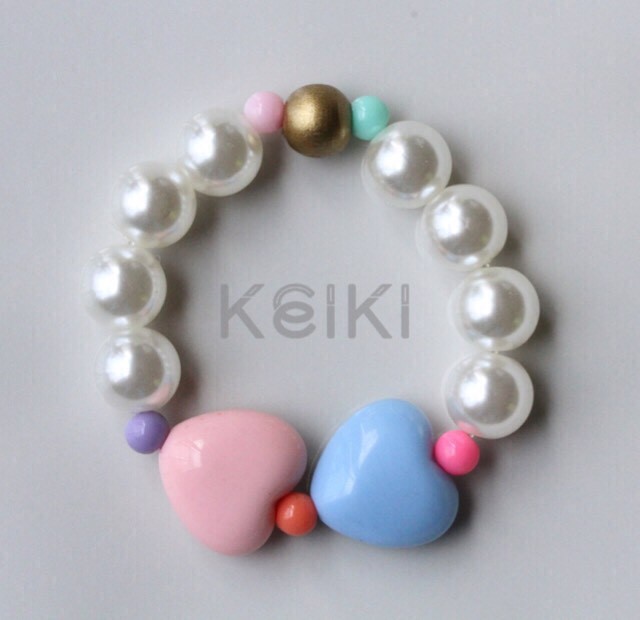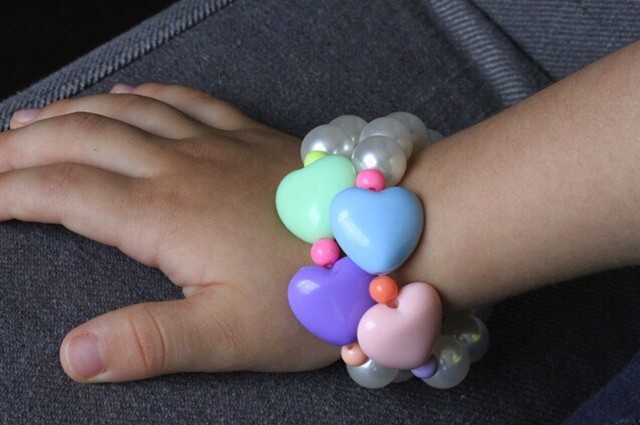 Children's Bracelet - Hearts Pink Blue キッズブレスレット keikitheshop
SOLD OUT
パステルカラーが可愛いポップなハートモチーフの子供用ブレスレット。メインがパールイミテーションでブルーとピンクのハート形ビーズが入った女の子らしい雰囲気のデザインです。ストレッチブレスレットなので取り外しも簡単です。

プレゼント、お誕生日会のパーティーフェーバーにもパーフェクトです。

◇お子様手首サイズ:約11.5~14cm
【素材】 アクリル・ウッド・ポリウレタン
【サイズ】 内径約15cm(幼稚園〜小学校くらいまで)ハート形ビーズの大きさ:約20×20mm

*送料については
全国一律200円となります。
(3000円以上のお買い物で送料無料とさせていただいております)

*お届けにつきましては
『普通郵便』(日本郵便)を使用しております。お届けまで、出荷してから2~4日程度のお日にちが必要です。

*****************************

This cute and fun bracelet is made of wood and acrylic beads with a clear stretch cord. They are perfect for your little one, great for gifts and party favors!

You will receive the one-of-a-kind item, exactly as photographed.
* The bracelet measures approximately 6 inches long (15 cm)
* Silver, gold & off-white round beads - 10mm
* Imitation pearl - 12mm
* Heart beads - 20x20 mm
Approximate age: fits a child between 2.5 and 8 years old.

Every bracelet has been kid tested, with every effort made to ensure each bracelet is made safe and secure to withstand normal wear/tear. Please consider that if the bracelet is used beyond normal wear, overstretched or pulled on with extreme force, it may break.

Please note that these items contain small parts and may be a choking hazard for small children under the age of 3. Young children should not be left unattended while wearing this item.

* For International Buyers *
■ Please read the detailed information (in English) on shop policies, and shipping information, under the 'About' tab.

■ To complete an international purchase, please remember to select the option, International Ship fee of ¥350 under "Select Shipping Method".

■ If your order exceeds ¥4000 (JPY), your international shipping is free.

Thank You!
Add to Like via app
Shipping method / fee

Payment method
¥1,200 tax included
SOLD OUT